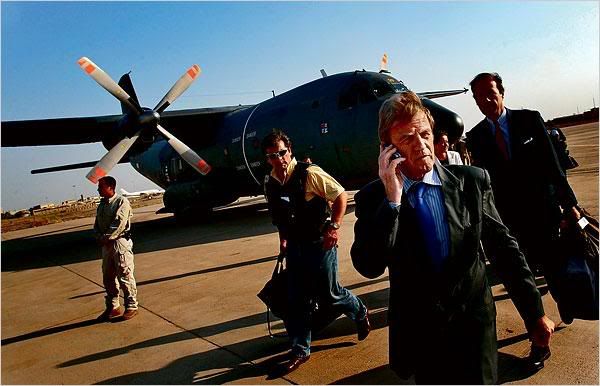 French Foreign Minister Bernard Kouchner arrives in Afghanistan in 2008.

French Foreign Minister Bernard Kouchner visited Afghanistan this week in a move that a French diplomatic report (published at France Diplomatie) said was intended to convey a message of unity and trust. With political tensions in the nation running high due to the imminent announcement of presidential election results, Kouchner met with both the incumbent President Karzai, who has been accused extensively of corruption during the ongoing United Nations investigation into electoral misconduct. He also met with Dr. Abdullah Abdullah, the primary opposition candidate who is widely regarded as being the most likely to successfully challenge Karzai's established position as Afghan head of state. Kouchner's staded intent was to inspire unity through his diplomatic efforts, convincing Afghans to work together with Afghans in 'security and reconstruction.'
A French 'Panhard' Armoured Car on patrol in Afghanistan.

An interview with the French Foreign Minister conducted for 'Le Figaro' newspaper was conducted shortly after his visit. He indicated in response to questioning that France had no intent to increase its troop presence in Afghanistan from the 4,000 military personnel it had in theatre, nor did it intend to increase the amount of aid destined for the Afghan National Army. Kouchner (founder of the international humanitarian organization Medecins Sans Frontieres) did state that France was exploring a renewed commitment to development, infrastructure and civilian aid. He also concluded that 'the whole world recognizes that French diplomacy has regained its full position.' French defeats in Indochina, counterinsurgency conflict fought in Algeria and minor political debacles around the world have eroded global confidence in France's diplomatic corps since the period of the Cold War, however the Foreign Minister's comments indicate that he at least, feels his nation is on the right track once more.
Sources:
Afghanistan – Interview given by Bernard Kouchner, Minister of Foreign and European Affairs, to the "Le Figaro" newspaper