A report run in The Seattle Times sheds new light on the numbers of American casualties which have climbed to 814 military personnel. These persons lost their lives in 814 participating directly in Operation: Enduring Freedom, the codename for the US-Led NATO Coalition war against the Taliban and Al Qaeda militants in Afghanistan, Pakistan and Uzbekistan. A curious footnote to the casualty report is that 71 personnel have died in support of O:EF in Guantanamo Bay Naval Base, Cuba; Djibouti; Eritrea; Ethiopia; Jordan; Kenya; Kyrgyzstan; Philippines; Seychelles; Sudan; Tajikistan; Turkey; and Yemen. Only three of these casualties were due to hostile action, and the report is not specific.

With over 420 soldiers killed this year, (more than half of the casualties incurred to date) 2009 marks by far the bloodiest and costliest year of the campaign, since the initial invasion of 2001. This month of October is the bloodiest month so far. Troop levels have continued to increase and US General Stanley McChrystal has requested up to 40,000 more troops, a decision which the Obama administration is weighing heavily against the success or failure of domestic policy objectives. Ten American personnel died this week as well when their helicopter crashed, returning from a narcotics-related raid on a compound.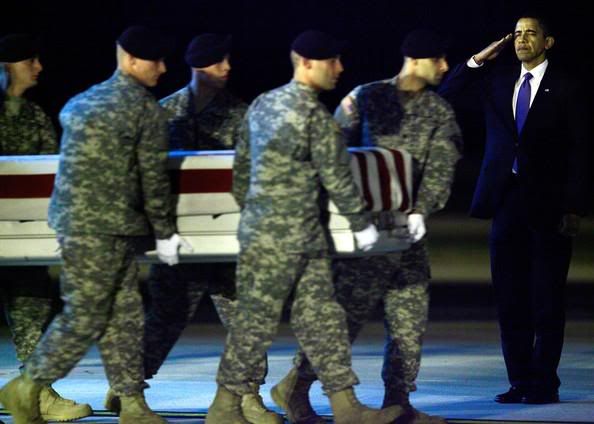 US President Barack Obama salutes the casket of a fallen soldier at a dignified transfer service at Dover Airforce Base in Dover, Delaware.


Sources:

The Seattle Times- US military deaths in Afghanistan region at 814
Taiwan News Online- 14 Americans killed in 2 helicopter crashes